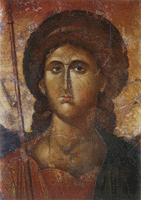 Click to listen to a Greek Orthodox chanting
The people of Cyprus represent two main ethnic groups, Greek and Turkish. The Greek Cypriots, who constitute about four-fifths of the island's population, descended from a mixture of aboriginal inhabitants and immigrants from the Peloponnese who colonized Cyprus starting about 1200 BC and assimilated subsequent settlers up to the 16th century.
The language of the majority is Greek. English is widely spoken and understood as a second language. Illiteracy is extremely low, the result of an excellent educational system.