St Andrew was the brother of St Peter, who served John the Baptist and was the first of the apostles to be called to ministry by Jesus.

Traditionally his missionary areas covered much of the medieval borderland of Byzantium, such as Macedonia and the Black Sea coast, with miraculous incidents set in Nicea, Thessalonica and Ethiopia. Images of his martyrdom depict him as a white-bearded old man of 80, tied to an olive tree cross that stood by the sea shore at Patras in the Peloponnese.

He continued to preach for two days before he finally expired. He is the patron saint of Greece, Russia, and Scotland, a protector of travellers and commander of winds. His feast day is celebrated on 15th August and 30th November.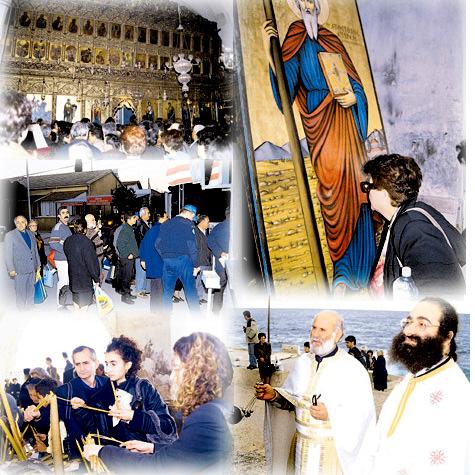 Worshipers at the monastery
(Photo courtesy of Kibris)
The shrine only became a popular sanctuary with the miracle of Maria Georgiou in 1895. 17 years after the disappearance of her son, she received a dream in answer to her unceasing petitions to St Andrew, which instructed her to go from her native Cilicia to the neglected shrine of Apostolos Andreas at the tip of Karpas, Cyprus. On the boat over she explained her journey to fellow passengers and particularly excited the attention of a young travelling dervish. He asked Maria how she would identify her lost s on, so she told him of the peculiar pair of birthmarks he bore on his shoulder and chest. The dervish threw off his woolen cloak to expose the same marks and fell on his knees before his mother.

Within months the shrine received a stream of pilgrims which increased into a flood as the saint proved his power over a random tithe of supplicants, Greeks as well as Turks, sophisticated Athenians as well as local peasants.