Bellapais Abbey in Kyrenia, North Cyprus which has witnessed singing the old songs for ages now hosts modern and classical concerts these days.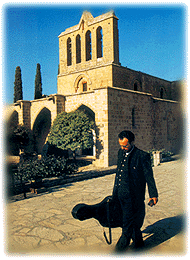 Numerous concerts have been performed in this 13th Century Lusignan Monastery. Salamis, in Famagusta is another such historic site used for concerts. Both of these places will now host cultural activities and music festivals during spring and summer periods.
On 24 - 25 August 1998 a "Chamber Music Concert" took place in Bellapais. On 28th August the famous Othello of Guiseppe Verdi was staged with accompaniment of Collegium Noricum Nürenberg Orchestra, conducted by Kurt Karl.
If you remember that Shakespeare's Othello of the 16th century is related to Famagusta, only a few miles away you can appreciate the historic significance of the concert.
Stages amongst Roman ruins, the two world famous artists Shakepeare's and Verdi will be once more honoured.
This is not something to be missed by any music lover.