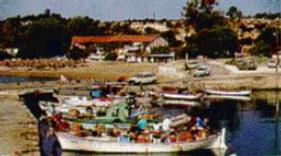 Bo

ğ

az is a beautiful coastal village on the southern edge of the Karpas peninsula, with half a dozen fish restaurants ranged round its harbour.

It also has some pleasant patches of sandy beach and only two large and reliable hotels in the area. The constant flow of customers to the village's restaurants also makes it an invaluable place to find a lift or taxi.

Further up the coast, about 5 km east, is the foundations of Strongylos Castle, a Byzantine watchtower enlarged by the Knights Templar in the 12th century.

Bogaz is well sited as a base to explore the region, only a few km north of Iskele and about 25 km north of Famagusta, and on the edge of Karpas.