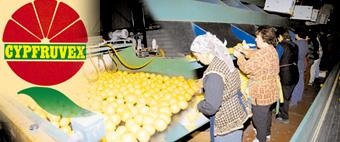 Citrus-packaging & processing at
Cypruvex (Photo: Kibris)
Over the years the Turkish-Cypriot manufacturing industry developed very small, small and medium-sized enterprises, owing to the physical structure of the country.
Industrial activities are mainly focused in food and beverages, furniture and fixtures, metal and non-metallic industries, textile and clothing and other such light industries.
The manufacturing industry achieved one of the highest rates of growth during 1977-2003 period. The value added of the sector increased from 317.2 million TL in 1977 to 897.4 million TL in 2003 with an annual average increase of 4.1% at constant prices of 1977.