North Cyprus produces a small number of wines, of which the best known are Aphrodite, and Kantara. These are both light, fruity, and palatable and are perfect accompaniment to the local dishes.

The country also produces its own sherry called Monarch. In addition to local vintages, the hotels and restaurants offer a wide range of red and white wines, and most other drinks.
The locally famous drink is the anissed based Raki, and brandy sour is another favourite with the Turkish-Cypriots.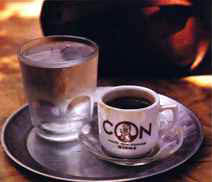 For a long refreshing beer try the locally produced Gold Fassl lager or the famous Turkish "Efes Pilsner".
There is also the favourite traditional Turkish yogurt drink of Ayran.
A traditional way to finish your meal is with a small cup of Turkish coffee.