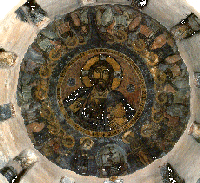 Some of the wall paintings dating back to the 12th century still stand today and are rare examples of the art decoration in the island.

Apart from these magnificent wall - paintings, icons belonging to this church and some other icons from other parts of the TRNC which have been put under protection are displayed in the museum.

The tiny little chapel of St. James is one of the most charming miniature churches in Cyprus. The interior has porcelain plates in the vaulting, but the icons and iconostasis are without interest. An exact model of the church has the erected by the Queen of Romania, at her palace on the Black Sea, to serve as her private chapel.